Sleeping Giant Glossolalia presents: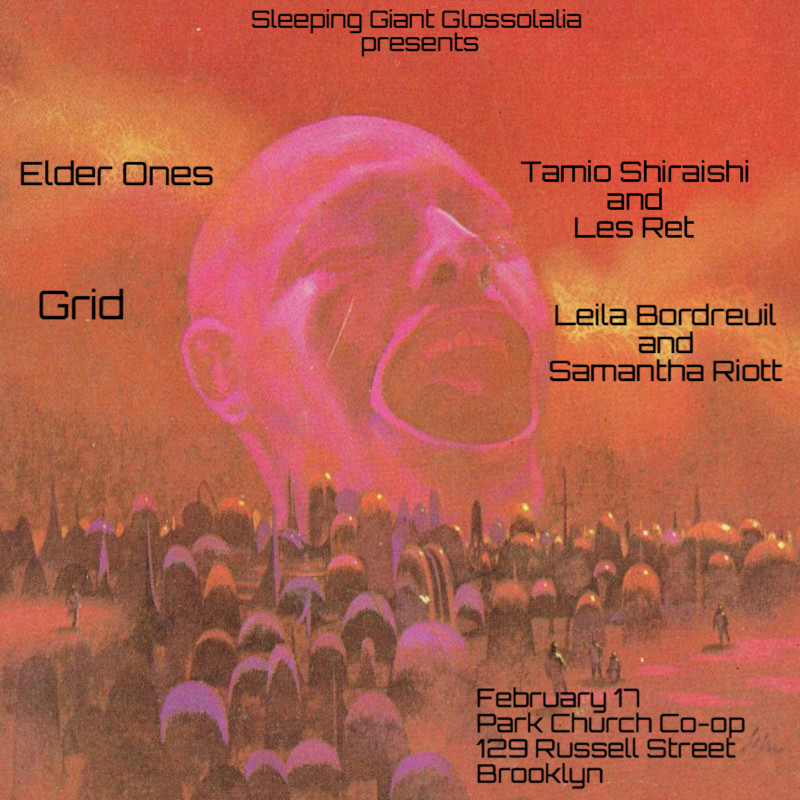 Elder Ones
Elder Ones, the quartet performing the compositions of vocalist Amirtha Kidambi(Seaven Teares/Elizabeth-Caroline Unit), lies nestled in a venn diagram of musical spheres and communities in New York City. Oscillating between worlds of modal, Sufi-like circular grooves and free improvisation to jagged, rhythmic precision and meditative drones, Thyagaraja, Coltrane or Stockhausen could be equally suspected as illegitimate fathers of their sound.
Tamio Shiraishi/Les Ret
Tamio Shiraishi was, with Keiji Haino, a founding member of legendary Japanese band Fushitsusha. Les Ret is known for his work with Lake of Dracula, The Flying Luttenbachers, Lydia Lunch, Burmese, Cellular Chaos, Hatewave, etc.

GRID
GRID consists of Tim Dahl(Child Abuse, Lydia Lunch Retrovirus, Barrsheadahl) Nick Podgurski(New Firmament, STATS, Feast of the Epiphany) and Matt Nelson(Premature Burial, Battle Trance, Elder Ones)

Samantha Riott + Leila Bordreuil
The spoken word attack of Rodenticide's Samantha Riott accompanied by cellist and composer Leila Bordreuil
All this takes place in a 100+ year old church in Brooklyn.
Friday, February 17 8pm
all ages welcome
cash bar for 21+
Park Church Co-op
129 Russell Street
Greenpoint, Brooklyn, NY