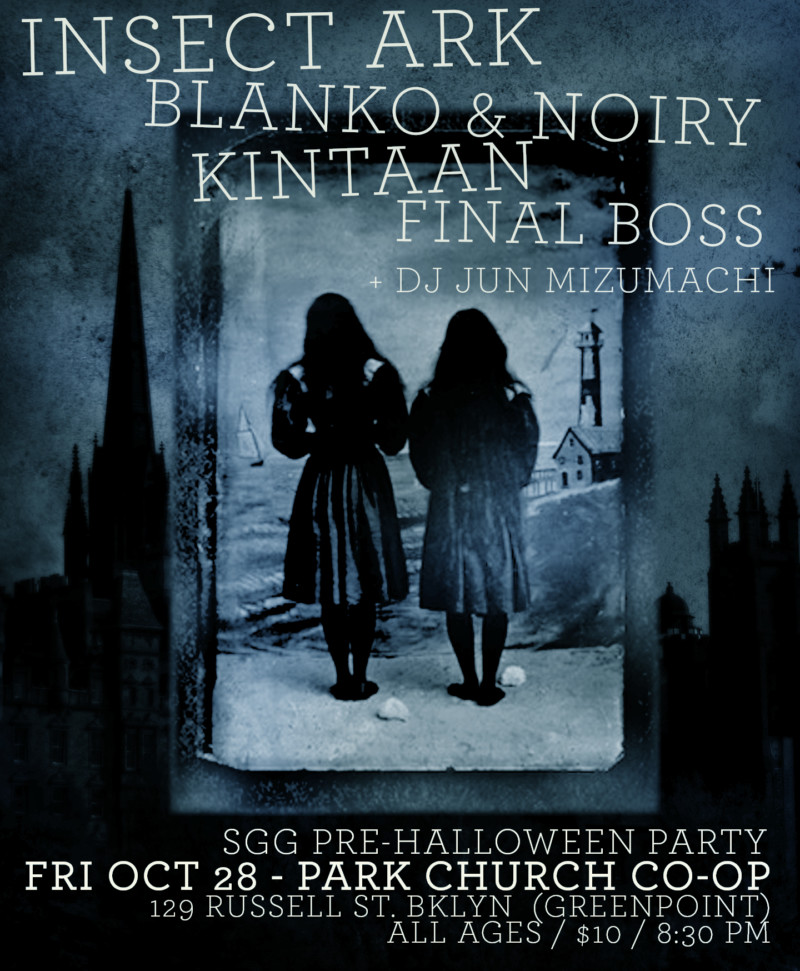 SGG presents a very special night of performances in an historic church on the Friday before Halloween featuring:
***INSECT ARK – full band ineup of Dana Schechter and Ashley Spungin
www.insectark.com
"Creating a personal soundtrack to the human psyche's underbelly, Insect Ark weaves a brooding, textural landscape, a starless night spiked with light and flash. The music braids together delay-drenched lap steel guitar, acoustic and electronic drums, distorted bass & synths to create a sonic mural both uncomfortably intimate and icy cold.
Started in late 2011 as a the one-woman solo project of bassist/multi-instrumentalist Dana Schechter (M. Gira's Angels of Light (Swans)/Bee and Flower), the band became a duo in Jan 2015 with the addition of Portland-based drummer Ashley Spungin (Taurus). Schechter performs solo when Spungin is on the west coast.
The vinyl edition of "Portal/Well" is forthcoming on Sleeping Giant Glossolalia."
***BLANKO & NOIRY
www.blankoandnoiry.com
"Blanko and Noiry is a multi-generational performance collaborative that has performed in New York City since 2006. Blanko & Noiry have appeared at venues including MOMA/PS1, La Mama Gallery, The Kitchen, and Gavin Brown Gallery. Blanko & Noiry is Chris Kachulis*, Frank Haines and Reuben Lorch-Miller. Their work is based on mutual interests in ritual, Vaudeville, show tunes, the occult, psychodrama, Viennese Actionism and experimental electronic music. One of their most memorable events is a night of performance curated by Frank Haines titled Blood Transfusion for a Ghost at MoMA PS1 in conjunction with the Kenneth Anger exhibition."
*Chris Kachulis (born 1937 in Brooklyn, New York), is a chanteur known for his participation in the early days of New York's Electronic music scene. He collaborated on Bruce Haack's 1968 album Electric Lucifer.
***KINTAAN – unsettling, avant-doom/industrial from Providence
kintaan.bandcamp.com
"Mind-expanding, drum & bass tectonic shifts washed in nightmarish effects. Kintaan are a trio from Providence, RI who drive an earthen, rhythmic push directly into the mangled, electronic ambiance of a Lucio Fulci gore flick.
You will feel the dead weight of deep space crush your chest as the massive swells of distorto riffs, complex beats, synth hell-washes and hallucinatory, vocal interjections provide you, the listener, with your very own sensory deprivation tank for outer limit pilgrimage. If you've ever wondered what music made in a
black hole would sound like; Kintaan's audio debauchery will provide an answer…of some kind." – Jay Snyder
***FINAL BOSS – NYC bunkerbeat/live electronics abuse ritual, members of Action Beat(UK) and Opening Bell
finalbossnyc.bandcamp.com
***and unorthodox "DJ"/interludes courtesy of JUN MIZUMACHI (former Ike Yard, current Gnaw member, award winning sound design for countless memorable films)
http://junmizumachi.com/
Friday, October 28
8:30pm
$10
ALL AGES
cash bar for 21+
129 Russell St. Brooklyn, NY