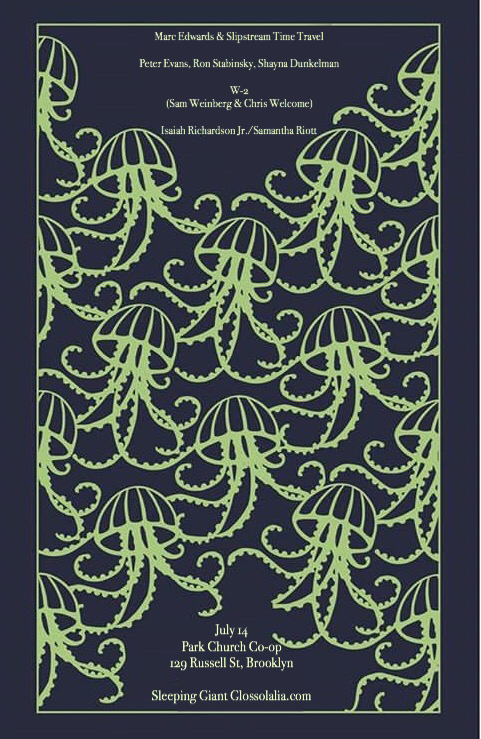 Peter Evans, Ron Stabinsky, Shayna Dunkelman (last)
Marc Edwards & Slipstream Time Travel
W-2 (Sam Weinberg and Chris Welcome)
Isaiah Richardson Jr./Samantha Riott (1st)
July 14, 2017 8pm
Park Church Co-op
129 Russell St, Greenpoint, Brooklyn
**Marc Edwards is a free jazz drummer who has played and recorded with artists such as Cecil Taylor, Charles Gayle, David S. Ware, and Weasel Walter and with his own group, Marc Edwards Slipstream Time Travel, an afrofuturistic free jazz ensemble. Marc is a former member of Cellular Chaos.
The New York City Jazz Record called his Sonos Gravis project a "conceptual merger of the New York Art Quartet, Black Sabbath and Last Exit, though despite signposts reflecting noise and free jazz, this music has little actual precedent"
** Peter Evans is an American trumpet player who has been a member of Mostly Other People Do the Killing, Zebulon Trio, Pulverize the Sound, and Premature Burial as well as his own Peter Evans Quintet. Shayna Dunkelman is a member of Xiu Xiu and has worked with John Zorn, Yoko Ono, Ikue Mori, etc.
**W-2 consists of Chris Welcome(Flying Luttenbachers, Hot Date, Apocalypso, Mothguts, Mike Pride's Drummer's Corpse) and Sam Weinberg(Bloor, Maestro Day).
** Isaiah Richardson Jr. and Samantha Riott are members of the New York City based band Rodenticide.